Clearwater Beach Cruiser (SLA)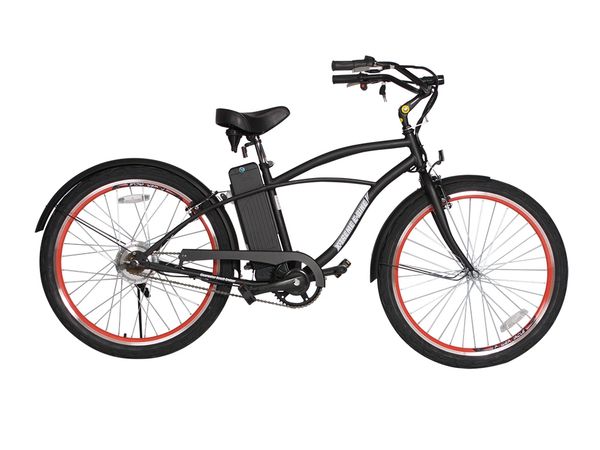 Clearwater Beach Cruiser (SLA)
The Clearwater Electric Beach Cruiser Bicycle is a SLA Battery powered Electric Bicycle cranking out 300 watts from the rear hub motor. This 100% hand welded steel frame bicycle has our 1 Speed Gear System, a battery pack consisting of 2 large 12 volt batteries for 24 volts total, and oversize 26" x 2.25 Kenda® Balloon Cruiser Street Tires, aluminum rims a water proof quick disconnect on the rear.
This electric beach cruiser bicycle can easily have a folding basket added that can be hung on either the front handle bars or on either side of the rear rack. The basket is an extra small charge and can be purchased at check out or after your e-bike is delivered.
Front and Rear V Brakes are standard on the Clearwater Beach Cruiser along with a large comfy big fat beach cruiser seat with dual springs to soften your ride!
This electric beach cruiser bicycle will travel 20 miles per hour for up to 20 miles on a single charge and it only takes a maximum of 4 hours to recharge the battery pack. The SLA battery pack is lightweight, compact and mounts to the frame below the seat and is hardly noticeable.
| | |
| --- | --- |
| Power: | Electric |
| Watts: | 300 Watt |
| Motor Type : | Brushless Rear Hub Motor |
| Gears & Speed's: | 1 Speed Traditional Beach Cruiser Gear System |
| Amps: | 15 AMP Circuit (2 Batteries at 12 AMP's each) |
| Volts: | 24 Volts (Each Battery Is 12 Volts) |
| Batteries: | 2 Large SLA Batteries In A Sealed Removable Pack |
| Tire Size: | 26" x 2.25" Kenda Balloon Street Tires |
| Charger: | Smart Charger Included |
| Tool Kit: | Included |
| Speed: | 20 MPH Maximum On Power Only (Can Pedal Faster) |
| Distance: | Up To 20 miles per charge - can still pedal |
| Throttle Type: | Twist Throttle or Pedal Assist PAS |
| Frame Type/Size: | 100% Steel Frame / 18" |
| Forks: | Lightweight Beach Cruiser Forks |
| Front Wheel: | Standard Front Axle |
| Handlebars: | Extra Wide & Long Beach Cruiser Comfort Bars (Steel) |
| Seat: | Comfort Beach Cruiser Seat With Suspension |
| Seat Post: | Extra Length Steel |
| Fenders: | Full Coverage Aluminum Fenders / Mud Guards |
| Braking System: | Front and Rear Vee Brakes |
| Drive System: | Rear Hub Motor (Motor is in rear rim) + Pedal Power |
| Head Light: | LED Light Included (Battery Operated Clamp On) |
| Measurements: | Coming May 11th |
| Carton Size (LxWxH): | (LxWxH): 54.5" L x 8.5" W x 28" H |
| Shipping Weight: | 77 lbs |
| Bicycle Weight: | 65 lbs |
| Maximum Rider Weight: | 350 Lbs |
| Battery Indicator: | Yes |
| Cargo Rack: | None Included |
| Basket: | Lightweight Folding Basket Can Be Purchased |
| Warranty: | 90 Day X-Treme Warranty - 6 Month Battery Warranty |
| Lifetime Warranty: | The Frame Is Warranted For Lifetime |
Reviews