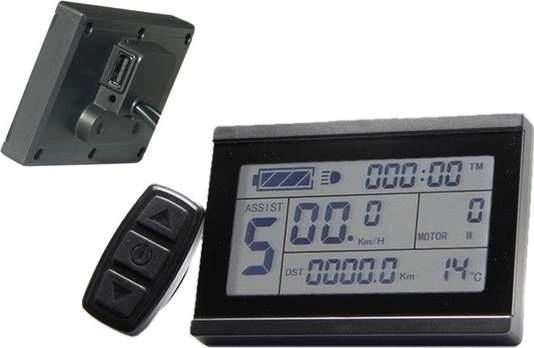 KT-LCD3 USB
The new KT-LCD3 USB now has a 5v USB port to charge your phone, GPS or run headlights. The power source will come from your main battery so now you no longer have to bring an extra battery to power your lights or phone. The KT-LCD3 USB comes with mounting bracket, rubber shims and screws ready to install and go. It also comes with a manual and 5 pin green HIGO plug compatible with the Sondors bikes. This LCD will work with any of our 20, 25 & 35a KT controllers.
Backlit LCD Display
On/Off Power Button
Battery Capacity Indicator Display
Odometer Display
Maximum Speed Display
Average Speed Display
Single and Total Trip Distance Display
Single and Total Trip Time Display
Motor Temperature Display
Motor Power Display
Brake Display
Backlight and Headlight Display
5 Pedal Assist Levels
Cruise Function
Battery Voltage
Integrated USB port (available only with Julet Quick Connect Anti-Water Lines)
5 pin green HIGO waterproof plug
Here are the standard LCD settings:
P1 = 100 
P2 = 6
P3 = 1 
P4 = 0 
P5 = 12 
C1 = 02 
C2 = 0 
C3 = 8 
C4 = 3 
C5 = 10 
C6 = 3 
C7 = 1
C8 = 0 
C9 = 0 
C10 = n 
C11 = 0 
C12 = 4 
C13 = 0 
C14 = 2
Video on how to get to setting mode

*disclaimer we are not responsible for any accidents, fire outbreak, explosions or any kind of injury due to the use of our batteries and products. Please take all necessary precaution with the use of our products. 
Reviews