1000 Watt Electric Gokart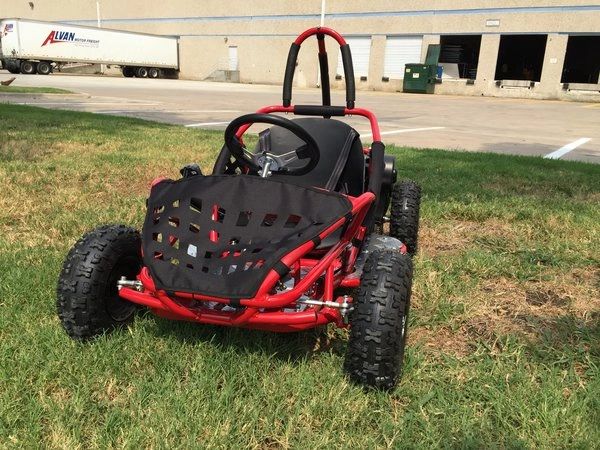 1000 Watt Electric Gokart
OUR 1000 WATT ELECTRIC GOKART ARE MADE JUST LIKE THE REAL GAS UNITS BUT WITH THE SAFETY AND ECO-FRIENDLINESS OF ELECTRIC POWER.  REAL WORKING SPRING COIL OVER FRONT & REAR SHOCKS, A-ARM SUSPENSION, FRONT & REAR DISC BRAKES, HEAVY DUTY STEEL FRAME, ABS MOLDED & DURABLE PLASTIC BODY SHELL, FORWARD & REVERSE. WHAT A GREAT VALUE AND AT THE SAME PRICE (OR LESS) THAN YOU PAY FOR MOST "OTHERS". 
ALSO, (FOR YOU MOM) IT HAS THE FOOT ACTIVATED SAFETY SWITCH THAT SHUTS THE UNIT OFF AUTOMATICALLY IF THE RIDER HAPPENS TO GO OFF COURSE.  ALSO, BEING ABLE TO SWITCH BETWEEN LOW AND HI SPEED WITH A KEY MEANS YOU CAN PUT IT IN LOW AND TAKE OUT THE KEY. THIS ELIMINATES YOUR YOUNG ONE FROM SWITCHING IT TO HI BEFORE THEY ARE READY. WHAT GREAT SAFETY FEATURES THAT ARE INCLUDED ON ALL OF OUR ELECTRIC GO KARTS, BECAUSE WE CARE! AWWW!!  (WOW! MOM, EVEN YOU SHOULD BE IMPRESSED WITH ALL THESE STANDARD SAFETY FEATURES!) 
THIS AWESOME 48 VOLT, 1000 WATT GO KART IS THE ULTIMATE KIDS RIDE! GREAT FOR DRIVEWAY AND BACKYARD FUN, SPEED THROUGH DIRT TRAILS WITH EASE. COMES STANDARD WITH A FULL SUSPENSION, REAR DISC BRAKES AND LARGE KNOBBY TIRES. THIS GOKART IS THE PERFECT STARTER KART!
COMES WITH BATTERY 48 VOLT PACK INCLUDED / EXTRA BATTERY PACKS ARE AVAILABLE
SEAT ADJUSTABLE FORWARD AND BACK
SEAT BELT YES
THREE SETTING PARENTAL SPEED LIMITER CONTROL, SET TO 10MPH, 13MPH OR 17MPH
FORWARD AND REVERSE YES WITH MANUAL SWITCH
DRIVE SYSTEM CHAIN DRIVE
BRAKE SYSTEM HYDRAULIC DISC BRAKE (FOOT CONTROLED)
FRAME HIGH-TENSILE STEEL
SIZE: 55" X 33"
WEIGHT: 141-LBS
MAX RIDER WEIGHT: 179-LBS   AGE: 6 AND OVER
THE KICKER GO KART PROVIDES LONGER RIDE TIMES AND MUCH MORE POWER THAN THE COMPETITION WITH A LARGE 48V BATTERY.
THE MINI-SPORT KART COMES WITH A HEAVY GAUGE POWDER COATED TUBULAR STEEL FRAME.
THIS 1000 WATT ELECTRIC GO KART OFF ROAD RACER OFFERS A RUGGED STEEL FRAME OFF ROAD GO KART IS AN EXCITING RIDE FOR KIDS! PARENTAL SUPERVISION IS MADE EASY USING THE 3 SPEED LIMITER CONTROL FOR USE DURING THE LEARNING PROCESS. SAFETY IS PROVIDED FOR BY THE ROLL BAR, DISC BRAKES, SEAT BELT, AND SPEED CONTROL. HELMETS SHOULD BE WORN.
Reviews