750w Geared Rear Hub Motor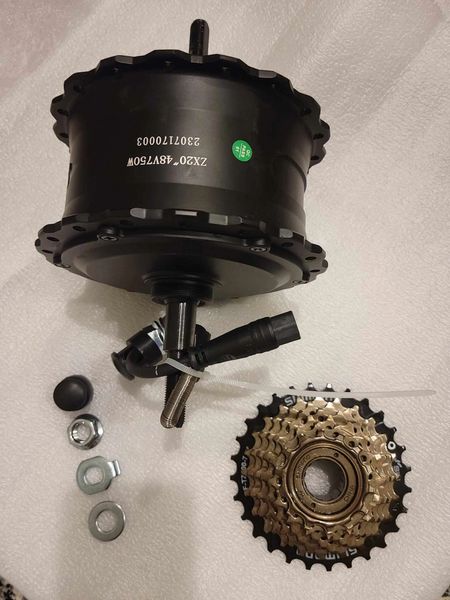 750w Geared Rear Hub Motor
*We have this item in stock ready to ship*
Our new 750w rear-drive geared hub motor for fat tire bikes. Compatible with disc brake, has a power of 750W nominal. A reduction ratio of 1: 5 and a maximum torque of 80 N.m, providing ideal power for e-bikes! Powerful and efficient, this motor comes with a freewheel 7 speed multi gear Shimano MF-TZ21 14-28T. The motor is swap-able to the Sondors & Rad bikes 350w & 500w Bafang hub motor case that requires no re-lacing of the wheel. 
You can do the inner-core swap with this motor if your bike has a Bafang geared hub motor with fat tires. Just make sure the motor cable comes out on the right side by the chain.
You will need our 35a KT controllers to run with this motor for the Sondors ebike. For the Rad ebikes or any ebikes with the compatible 3pin motor plug you can still use the stock controller/LCD. This "true" 750w motor is more powerful and robust than the 350 & 500w Bafang motor and it's the easiest and best way to replace them. Greatly enhances your riding performance giving you more torque and acceleration to climb the hills you were never able to before! 
Our newest version of the 750w motor will have a smaller inner core than our previous version to maximize efficiency, weight reduction and will have more copper winding to produce the same power as our previous version.
This motor is only available in North America, anyone outside of North America interested in this motor please contact us for a shipping price quote.
*Please note when plugging the motor to the controller, you MUST push both motor plugs together as hard as you can. Use a lot of force to push them together until you feel a click to secure it. If this connection is not secure, you will get error message on the display screen. A loose connection could also cause heat and melt the wire and plugs. Our motors come with a 30 day warranty due to natural defects, if you open up the motor and take it apart, all warranties are void. Please test the motor to see if it works prior to installing it on your bike. 
Here's a video on how to do an inner-core motor swap.

*disclaimer we are not responsible for any accidents, fire outbreak, explosions or any kind of damage or injury due to the use of our batteries and products. Please take all necessary precaution with the use of our products. Use at your own risk.
Due to the modification being done to this motor, once you open and swap the inner-core to another motor all warranties are voided. 
For return and warranties the motor must not been tampered or open, please check motor prior to installing it for a return or refund. We will NOT accept returns or warranties if motor have already been tampered.
Reviews