Big Cat Long Beach Cruiser 500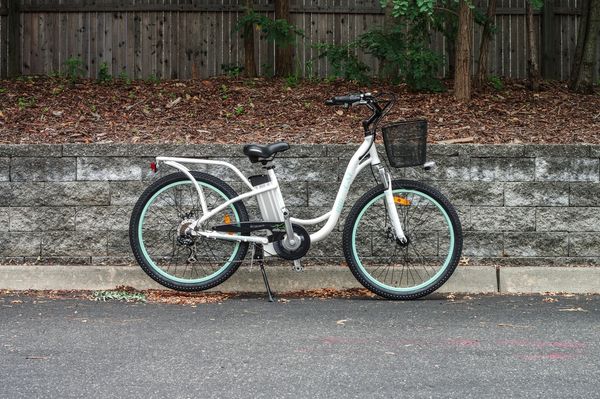 Big Cat Long Beach Cruiser 500
New for 2019, the LBC 500 electric bicycle is equipped with a 48V12Ah Removable lithium-ion battery, while still maintaining its strong and efficient 350W geared rear hub motor. On this beach cruiser, you'll be sure to get an average of 15-30 miles on a single charge! If it's speed you're after, we have that covered! These electric bicycles can reach speeds of up to 20 mph at the twist of a throttle, allowing you to get to your destination faster without breaking a sweat! Ride confidently with the upgraded 2.3" wheel and tire combo which gives riders a sturdier feel and overall control of the bicycle.
One of the most important features on the new 2018 LBC is the Pedal Assist function. This latest edition beach cruiser e-bike still offers both pedal assist and throttle functions, however, the new pedal assist function gives riders the ability to choose between 1-5 levels of pedal assist which control the amount or propulsion you get from the motor. Set it to the highest level for effortless riding, or if you're seeking a workout and want to save some of your battery's life, set the bike to a lower setting.
 The LCD pedal assist controller is a Premium option which gives users the ability to choose between 1 and 5 levels of pedal assist; it also displays the power of the unit, the speed readout, distance, and the e-bike's current battery life.
All-Big Cat Long Beach Cruiser models are equipped with a standard King Meter KM-529 LCD Display.
Save $20 off at checkout when you use coupon code: electrobikeworld 
Free shipping to anywhere in the lower 48 state 
1 year parts only manufacturer warranty
SPECIFICATIONS:
Motor:

 350w 48v



Charging Time:

 4-6 Hours ( Max. 6 Hours )



Battery Life: 

800-1500 Cycles



Weight With Battery: 

57Lb



Weight Capacity:

 275Lb



Cargo:

 Rear Welded Pannier Rack + Front Basket



Basket Dimensions: 

13"W x 10.5"L x 10"H



Pannier Rack Dimensions:

 14 "L  x 6.5 "W



Functions:

 Pedal Assist + On Demand Throttle 



Controller:

 LCD ( 9 Level PAS | 2.5" Display ) 



Lights:

 LED Front ( 7 L.E.D ), Rear



Crank Set:

 170mm Arms - 12 Magnet Cadence Sensor 



Suspension:

 Front fork

Frame:

 Aluminum 



Frame Size:

 17.5" 



Frame Finish:

 Matte Black, Gloss Pearl White 



Brakes:

 160mm Mechanical Disc Brakes F/R



Tires:

 Kenda 26x2.3"



Rims:

 Aluminum-Alloy 36 Spoke



Derailleur:

 Shimano 7 Gear Tourney SiS Index



Battery Volts / Amps:

 Lithium-Ion 48V12Ah 



Range:

 20 - 50 Miles ( Range depends on Rider, Rider Weight, Terrain, Wind, Charge & sometimes Weather Conditions )



Max Speed:

 20MPH



Seat:

 10" W ( +Quick Lift ) 



Seat To Floor:

 44" ( When Seat Is Set To Highest Point ) 




See video demo https://www.youtube.com/watch?v=MEejc1H2mSc
Reviews