E-Rider 48 Volt Electric Mini Folding Bicycle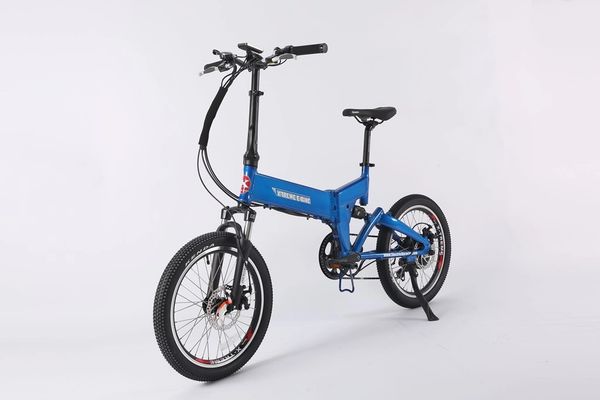 E-Rider 48 Volt Electric Mini Folding Bicycle
E-Rider 48 Volt Electric Mini Folding Electric Bicycle
The E-Rider 48 Volt Lithium Powered Electric Mini Folding Bicycle is a Lithium Battery powered Electric Bicycle cranking out 500 Watts from the Bafang High Torque Zero Resistance Clutch Motor with Digital Torque Sensor. This bike features a lightweight, compact lithium LiPo4 48 volt 8 Ah integrated battery pack providing a considerable amount of power greater than our 24 volt or 36 volt models. This bike comes with everything Aluminum - every bolt, every nut, every nipple, every spoke. That means no rust! The 100% hand welded lightweight aluminum frame bicycle has Shimano 9-Speed Gears & Shifting System, Suntour XCT Front Suspension & KS Rear Shock Suspension, aluminum rims with quick release axle on the front and a water proof quick disconnect on the rear.
The E-Rider Mini folds completely in half for easy transportation. This bike is perfect for anyone on the go or someone with limited storage space options.   This bike is great for taking RV'ing or camping.   Another special feature is the battery pack located inside the bicycle frame. The battery is now hidden and accessible when the frame is in the folded position.
The E-Rider comes equipped with the King Meter 5 Speed Smart Power Assist System (SPAS) with a USB Phone Charging Port. The electronics of the X-Treme Electric Bicycle are controller via rider input on the LCD screen attached to the handlebars. Smart PAS with 5 speeds will enable the bike to operate nearly twice as efficient as a non-smart assist e-bike, because you select the power consumption (speed controls 1-5 setting) on the LCD during your ride. This feature will allow your 48 Volt to possibly reach or exceed 70+ miles per charge when using low SPAS while always pedal assisting on flat ground under perfect conditions with a light weight rider. The LCD also indicates Speed, Distance and Battery Life.
Front & rear Tetko disk brakes are standard on the E-Rider 48 Volt Electric Mini Folding Mountain Bicycle along with true VELO Brand Hand Grips & Mountain Bike Seat.
SPECS
Amps
8AH Integrated Lithium Battery
Battery
48 Volt LiPo4 Lithium (lightweight) - inside bicycle frame - accessible when bicycle in folded position
Drive System
Chain Driven by Rear Hub Motor or Pedal Power
Distance
Up To 70+ Miles Range Using Low PAS & Flat Terrain While Pedal Assisting
Speed
Up to 25 MPH* On PAS/Throttle Only - Much Faster If You Pedal With Your Legs & Feet (self power) 35+ MPH
Charger
48 Volt Output UL Certified Charger (Charging Time +/- 3 Hours)
Tire Size
Kenda Mountain Tire & Tube - 20 x 2.10 Inch on Aluminum Wheels
Motor
Bafang 500 Watt Zero Resistance Rear Hub Motor With Clutch
48 Volt 15 Amp Sealed Smart Controller
Braking System
Tektro Disk Brakes 
Pedals:
Wellgo Aluminum Pedal Set
Front Wheel:
Joytech Quick Release Hub
Throttle Type
Variable Speed Thumb Throttle - SPAS Power Assisted - Pedal Power
LCD Display
King Meter LCD Smart PAS Digital System With USB Phone Charging Port
Frame Type/Size
Foldable/Folds - 6061-T6 Temper Aluminum Alloy - Very Lightweight
Forks
Suntour® XCT Hydraulic Front Forks
Suspension
Front Hydraulic Suspension Included & KS Rear Shock Suspension
Front Sprocket
Aluminum Alloy Sprocket
Derailleur
Shimano® 7-Speed Atlus Gears & Shifter
Seat & Post
Aluminum Alloy Adjustable Seat Post & Velo Mountain Bike Seat
Quick Release
Front & Rear Wheels Have Quick Release Axles - Flip Lever
Handle Bars
Aluminum Alloy Mountain Bike Handle Bars
Head Light
Yes, included as free accessory add on - Battery Operated Snap-On LED (Not covered under warranty)
Accessories
Drink Holder On Handle Bars Included
Bicycle Measurements
Max Seat Height = 40 Inches / Min Seat Height = 36.25" Inches / Max Handlebar Height = 46.75 Inches / Min Handlebar Height = 41.2 Inches 
Carton Size (L x W x H)
Coming Soon
Bicycle In Box Weight
64 lbs
Suggested Max Weight
225 lbs.
Warranty
1 Year Warranty & 1 Year Battery Warranty
Notes
*depends on rider weight & terrain Distance obtainable when using SPAS
Reviews