L48 48v 20.3Ah Triangle Battery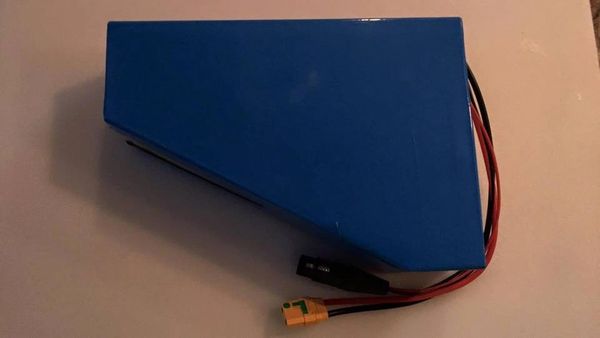 L48 48v 20.3Ah Triangle Battery
The L48 battery has a 48v 20.3Ah genuine Samsung cells that was tested on the Sondors Thin bike to reach 28mph top speed and close to 75 mile range using PAS 2 & 3. This battery can also be use for the Sondors fat tire bike and fits inside the battery box along with the controller. This battery will make a great DIY ebike build so get your L48 battery today and take your ebike to a whole new level of fun, exploration and excitement!
*Please note this battery will need to be mounted on the rear rack of the Thin Sondors ebike along with a wire harness. It will fit inside the battery box of the fat tire Sondors ebike or triangle frame with bag. This battery is a made to order and will be built from scratch. Total delivery time is approximately 10-12 days.
This package includes:
- 1 48v 20.3Ah genuine Samsung cell triangle battery
- 4amp high quality aluminum charger with cooling fan
- XT90-S anti sparks discharge connector, XT90-S male plug with pigtails
- 1 year warranty (on non physical damage battery only)
- free shipping to lower 48 states (international shipping is available)   
*This battery is made to order and will take approximately 10-12 days delivered to your door. 
We also do customize battery pack to suit your needs according to your specifications and dimensions. Please contact us here and let us know what you need, we can make it happen.
*disclaimer we are not responsible for any accidents, fire outbreak, explosions or any kind of damage or injury due to the use of our batteries and products. Please take all necessary precaution with the use of our products. Use at your own risk.

Reviews