24v Lithium Battery Charger Version 2 LiPo4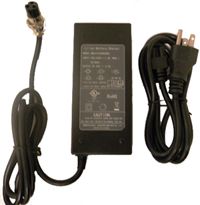 24v Lithium Battery Charger Version 2 LiPo4
24 Volt LiMn Lithium Battery Charger for use with your X-Treme™ Trail Maker & Trail Climber Electric Mountain Bicycle. Click Add to Basket, and then click upper right corner to Checkout.
If your bike was built in 2010 or later, this item is your replacement battery charger and is the LiPo4 latest technology type.
If your bike was built in 2009 or before, your bike will be using the older technology LiMn Lithium battery pack and LiMn Lithium battery charger and you cannot use this battery charger with your e-mountain bike.
Note** All X-Treme Electric Mountain bike models with a manufacture date of 2010 or newer (look at serial number on bottom of frame for year) are using this LiPo4 Lithium battery charger and the LiPo4 Battery.
Reviews