LX52 Triangle Battery 52v 17.5Ah Samsung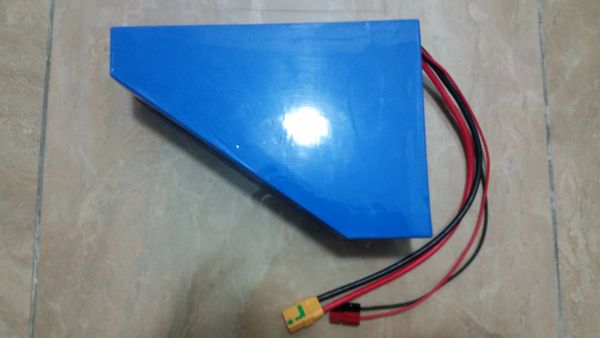 LX52 Triangle Battery 52v 17.5Ah Samsung
Our newest battery the LX52 has 52v 17.5Ah Samsung cells that will fit in the Sondors original and X without any modification. We recommend to use this battery with our 25 or 35a controllers & LCD. You'll instantly gain 28-30mph top speed and a distance range of 55+ miles! *speed & distance is subject to weight, terrain, wind etc.
Take your bike to a whole new level of performance and go faster and further than you can ever imagine! 
Package includes:
- 52v 17.5Ah triangle Samsung pack
- XT90-S connectors with pigtail ready to plug and go
- 4amp new and improve quality charger with cooling fan
- 1 year warranty from natural defects
- All items on our site have free shipping to the lower 48 states
*This battery is made to order and will take approximately 10-12 days delivered to your door. 
We also do customize battery packs according to your dimensions and specs. Contact us from link below and let us know what you need.

https://electrobikeworld.com/contact
*disclaimer we are not responsible for any accidents, fire outbreak, explosions or any kind of damage or injury due to the use of our batteries and products. Please take all necessary precaution with the use of our products. Use at your own risk. For return and warranties please see https://electrobikeworld.com/p/return-policy

Reviews