Stealth Bomber 72v 28Ah Lithium Ion Battery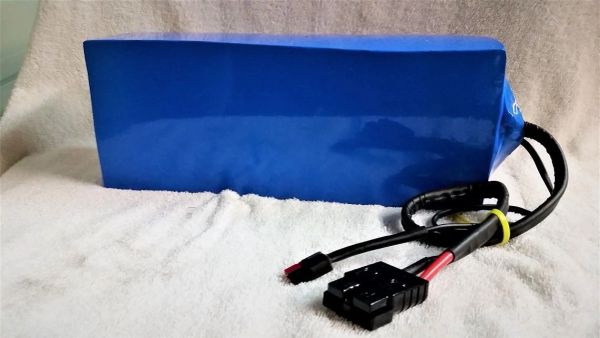 Stealth Bomber 72v 28Ah Lithium Ion Battery
Looking for a better Stealth Bomber electric bicycle replacement battery? Introducing our 72v 28Ah lithium ion battery pack that is equipped with Sanyo cells and 80a BMS to move you faster and further than ever before! Our battery pack is lighter and more compact than the standard stock lipo battery. 
This battery is build to order and delivery time is between 10-14 days.
Features/specs:
-72v 28Ah 20S 10P genuine Sanyo cells
-Built in 80amp continuous BMS
-5amp aluminum case with cooling fan battery charger
-Discharge connector - Anderson SB50
-Charging connector - Anderson 30a
-Dimensions 360mm X 120mm X 140mm
-1 year warranty on battery due to natural defect
-Free shipping within the lower 48 states. International shipping available
We also do customize battery packs according to your dimensions and specs. All of our batteries will include genuine top quality cells of your choice, a 4amp high quality battery charger, 1 year warranty and free shipping to lower 48 states. Contact us at electrobikeworld@hotmail.com
*disclaimer we are not responsible for any accidents, fire outbreak, explosions or any kind of injury and damage to your bikes due to the use of our batteries and products. Please take all necessary precaution with the use of our products.
Reviews