X-treme Trail Climber Elite Electric Bike Lithium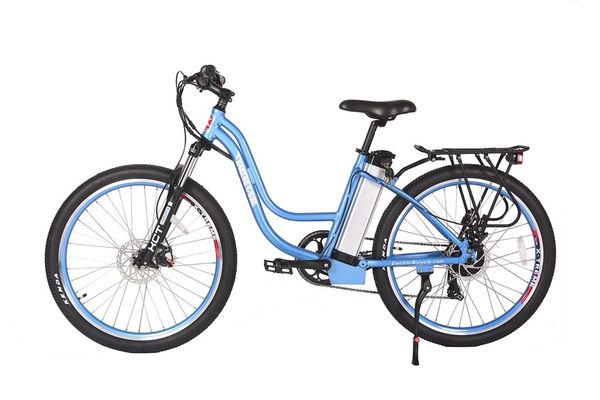 X-treme Trail Climber Elite Electric Bike Lithium
Trail Climber Elite Electric Mountain Bicycle
The Trail Climber Elite is a Lithium Battery powered Electric Bicycle with a step through frame, running on a 300 Watt Zero Resistance rear hub motor. Made with all top of the line components this model includes a 7 Speed Shimano Tourney® Gears & Shifter System, 7 Lightweight Lithium 24 Volt 10.4 Amp (previously only 8 amps) LiPo4 Batteries, a 100% Aluminum Alloy Frame, fully Adjustable Seat, and a Suntour hydraulic front fork.
This electric bicycle will travel up to 20 miles per hour for up to 20 miles on a single charge and it only takes about 4 hours to recharge the battery. The LiPo4 lithium battery pack is lightweight, compact and mounts to the frame under the seat and is hardly noticeable.
Power Electric
Watts 300 Watts
Amps 10.4 Amp Circuit (7 Battery Cells at 10.4 Amps Each)
Volts 24 Volts (Each Battery Cell is 3.6 Volts)
Batteries 7 Lightweight Lithium LiPo4 Battery Cells in a Sealed Removable Pack
Speed 20 MPH*
Distance Up to 15 to 20 miles per charge* - can still pedal if charge is lost
Tire Size 26 x 1.95 Inch on Aluminum Wheels
Charger 24V Smart Charger Included
Motor Zero Resistance Hub Motor - Motor is in center of rear wheel
Gears & Speeds 7 Speed Shimano Tourney® Gears & Shifter
Tool Kit Included
Throttle Type Variable Speed Control (Twist Throttle) or Pedal & Power Assisted
Key Start Yes
Frame 100% Aluminum - Very Light Weight - 18 Inches - Step Through
Forks SA Suntour® XCT Front Forks
Braking System Front & Rear JAK Disk Brakes
Drive System Zero Resistance Rear Hub Motor (Motor is in rear rim) + Pedal Power
Headlight Yes
Cargo Rack Yes
Measurements 72 Inches Wheel to Wheel - 25 Inches Width - 37 Inches to Handlebars
Carton Size (L x W x H) 55 x 9 x 28
Bicycle In Box Weight 60 lbs.
Bicycle Weight 52 lbs.
Suggested Max Weight 350 lbs.
Warranty 1 Year X-Treme Warranty & 1 Year Battery Warranty
Notes *depends on rider weight & terrain
Reviews