X-treme X-Cursion Elite Folding Electric Mountain Bike Lithium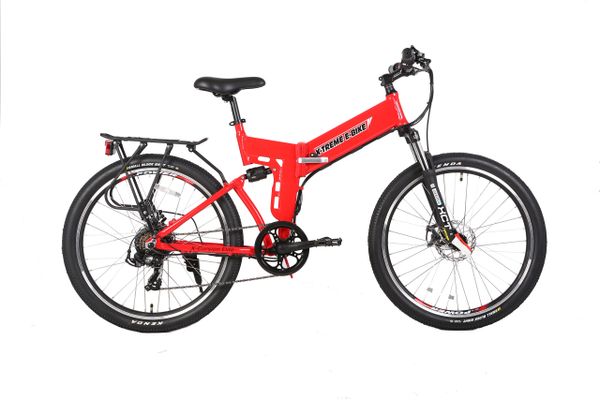 X-treme X-Cursion Elite Folding Electric Mountain Bike Lithium
X-Treme X-Cursion Elite 24 Volt Electric Folding Mountain Bicycle
Brand New Re-Designed X-Treme Power Assisted Folding Mountain Bike / Bicycle running on a 300 watt zero resistance gear rear hub motor (if you choose to ride without power you won't feel the resistance of the motor when pedaling), an upgraded 24 Volt 10.4 Amp (previously only 8 amp) removable lightweight Lithium battery pack for longer distance riding, 7 Speed Shimano gear system, upgraded JAK front & rear brakes, ALL Aluminium frame & wheels, hydraulic shocks & off road tires.

The battery is now located inside the bicycle frame and is accessible when the bike is folded in half. This allows for the seat to adjust much lower than our older version X-Cursion and can be comfortably ridden by a shorter rider. This new feature also allows your battery to not be seen. With this new feature your On/Off Switch as well as Battery Charging Port is located on the frame underneath a Rubber Cover Flap.

The folding electric mountain bike is great for individuals with small living spaces, RV'ers, campers, college students and anyone who wants a lightweight foldable mode of reliable transportation.
Specifications
Power Electric
Watts 300 Watts
Amps 10.4 Amp Circuit 
Volts 24 Volts (Each Battery Cell is 3.6 Volts)
Batteries 7 Lightweight Lithium LiPo4 Battery Cells in a Sealed Removable Pack that is hidden inside bike frame
Speed 20 MPH*
Distance Up to 20 to 25 miles per charge* - can still pedal if charge is lost
Tire Size 26 x 1.95 Inch on Aluminum Wheels
Charger 24V Smart Charger Included
Tool Kit
Included
Motor Zero Resistance Hub Motor - Motor is in center of rear wheel
Gears & Speeds 7 Speed Shimano Tourney® Gears & Shifter
Throttle Type Variable Speed Control (Twist Throttle) or Pedal & Power Assisted
Power Switch: Located on Frame under Rubber Cover Flap along with Battery Charging Port
Cargo Rack Yes
Frame Type/Size 100% Aluminum - Very Light Weight - Foldable
Forks SA Suntour® XCT Front Forks
Suspension Front Suspension included
Braking System Front & Rear JAK Disk Brakes
Drive System Chain Driven by Rear Hub Motor within rear rim or Pedal Power
Head Light Yes - Battery Operated Snap-On LED (Not covered under warranty)
Collapsable Yes - Easily unlock and fold bike in half for transporting
Bicycle Measurements
Seat Height 36 - 40 inches / Handlebar Height 40 inches / Handlebar Width 26 inches / Bicycle Length 70 inches
Carton Size (L x W x H) 55 x 9 x 28
Bicycle In Box Weight 67 lbs.
Bicycle Weight 57 lbs.
Suggested Max Weight 350 lbs.
Warranty 1 Year Warranty & 1 Year Battery Warranty
Notes *depends on rider weight & terrain
Reviews