X-Treme XG-575 Gas Scooter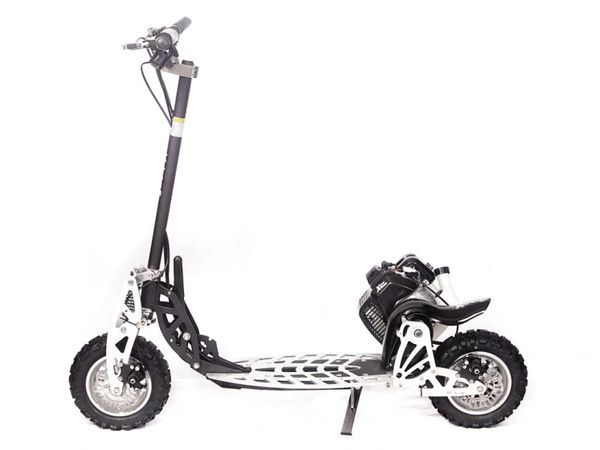 X-Treme XG-575 Gas Scooter
The X-Treme XG-575 A-Blaze Signature Series Gas Scooter 
The XG-575-DS is a TWO speed gas scooter with top speeds of 30-35 MPH. 
Front "Cam-Link" Suspension - Unlike the competition, this is a true suspension system that offers a smooth ride, while offering excellent resistance when landing after jumps. 
2-Speed Gear Box - The first two speed scooter in the world! This gives you power at lower speeds and higher top speeds. Patented design by Puzey Designs. 
Billet Deck - CNC Cut Billet Aluminum Deck. 
Reinforced Frame - Superior design, quality welding and quality steel. 
Posi Lock Folding - Improved folding system, with superior feel and functionality. 
One-Touch Chain Tensioning - Tighten the final drive chain in one simple and easy action without having to align the rear wheel. 
Alloy Rims 
Disc Brakes - Front and Rear 
Adjustable Handlebars - Height and Position adjustable. 
Tires - Oversized Knobby Dirt Tires. 
Drive System: 2 Speed Gear Box (Thumb shifter) 
Seat Included: No 
Engine: 50cc 2HP 2-Stroke (EPA Approved) 
Top Speed: 30-35 mph (weight dependent) 
Brakes: Front & Rear Disc 
Tires/Front: 11 inch Pneumatic Knobby Tire 
Tires/Rear: 11 inch Pneumatic Knobby Tire 
Max load: 265 Lbs 
Max Range: 20 miles per tank 
Carton Size: 46x17x19 inches 71 Lbs 
Product Size: Standing 29x24x50", Folded 36x24x18" 
Net Weight: 53 lbs 
Gross Weight 58 lbs 
Warranty: 90 Day Parts Replacement 
Color: Black 

This model cannot be shipped to California due to CARB restrictions on all 2 stroke gasoline engines.

Reviews